Warbringer - Album Release Date Announced
US thrash metal quintet
Warbringer
will release their upcoming new album,
Worlds Torn Asunder
, on September 27th through Century Media Records.
Worlds Torn Asunder
was produced and mixed by the renowned Steve Evetts (
Suicide Silence
,
The Dillinger Escape Plan
,
Symphony X
), and features artwork by the talented Dan Seagrave, who designed Warbringer's previous album cover (in addition to art for bands such as
Entombed
,
Suffocation
and
Morbid Angel
).
About the artwork, vocalist John Kevill comments: "The concept behind
Worlds Torn Asunder
was the decline of our existing world at the hands of the human race. The artwork depicts the world literally being torn and we wanted to include the setting in the cosmos along with a darker 'higher' force lurking behind the shadows. We had worked with Dan Seagrave before on
Waking into Nightmares
and were very comfortable with the way he expressed himself. He's been the artist for many bands we love and are inspired by."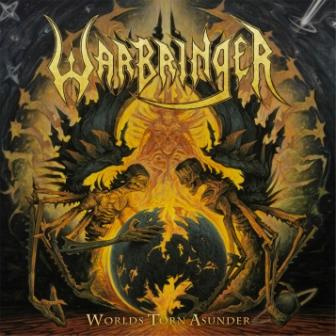 Worlds Torn Asunder
tracklist:
01. Living Weapon
02. Shattered Like Glass
03. Wake Up... Destroy
04. Future Ages Gone
05. Savagery
06. Treacherous Tongue
07. Echoes From The Void
08. Enemies Of The State
09. Behind The Veils Of Night
10. Demonic Ecstasy
Comments
Hits total: 2620 | This month: 11