Edguy - Reveal Alternate Album Cover And More
On April 18th, the new
Edguy
album,
Space Police - Defenders Of The Crown
, will be released via Nuclear Blast. Since we all already know what the
standard edition's tracklist and artwork
are, now it is time to take a look at the limited digibook edition, containing 2 CDs.
Also available will be a strictly limited hardcover earbook collector's edition (28.5x28.5cm) containing the two discs, a photographic history with more than 130 photos from the band's archive, liner-notes, touring history and more.
Here you have the bonus tracks and the limited edition's artwork:
01. England
02. Aychim In Hysteria
03. Space Police (progressive version)
04. Space Police (instrumental version)
05. Love Tyger (instrumental version)
06. Defenders Of The Crown (instrumental version)
07. Do Me Like A Caveman (instrumental version)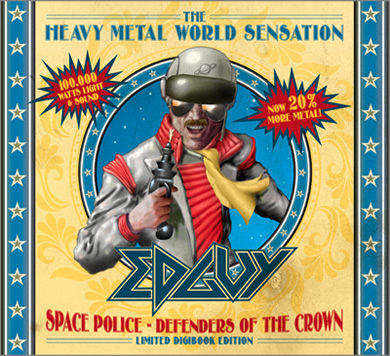 Comments
R Lewis
That Useless Guy
BloodTears
ANA-thema
Akke920

Posts: 35
From: Finland
Nemo Atkins

Posts: 257
From: UK
FeskarN
Nemo Atkins

Posts: 257
From: UK
FeskarN
Nemo Atkins

Posts: 257
From: UK
Wukk
BynersA7X

Posts: 149
From: Brazil
WorpeX
LeChron James
Helvetesfossen
Gopherhawk
The Shape 1973
tomasmakina

Posts: 10
From: The Netherlands
mandrake88

Posts: 42
From: Hungary
Malaghost
Ellrohir
Heaven Knight
HumanSpirit
Hits total: 2411 | This month: 10