2008's Dirty Dozen
So 2008 has come, gone, and is now long dead, buried, and at least 85% wormfood. This blog was intended to be written and published a month after the MS Awards and Staff Picks were announced as an April Fool's joke with me blathering on about the 2008 releases (and one 1987 release thrown in for fun because each year someone invariably nominates some album released the prior year) of a bunch of bands that I didn't really care for as if their work was metal gold.
This might have been a tad insensitive to said artists (meh, you put material out, you should accept both praise and criticism from us pig-ignorant Philistines that merely write about music rather than learn an instrument and compose our own)? and I didn't really feel like fielding an inbox full of notifications from people screaming and yelling at me (well, typing IN ALL CAPS, rather) when the gig was up, the joke was revealed, and I was, in reality, bored to tears and not at all fond of albums that their favorite bands released. After reading the criticism to Jupiteras'* review of My Dying Bride's newest, I think it was a wise decision on my part not to write negative things about how Arsis, Amon Amarth or Royal Hunt were the sonic equivalent of Non-Alcoholic beer. They just didn't get me buzzed and ready to put my fist or head through a wall.
Oops, now I've gone and done it? perhaps I should edit those last few sentences before publishing?. Naw, fuck it.
So last year I went all Tap and my 10 went up to 11. With the globe in recession, I am going to do my part to combat the tightening of belts by taking my top 10 of 2008 up another notch to a full 12 albums. Somewhere in the cosmos where peoples' spirits float about after they die (or perhaps from a plot of dirt somewhere in the English countryside), I imagine Douglas Adams is smiling at my annually increasingly misnamed top 10 list. Maybe next year my favorite albums list will go past ludicrous speed and hit plaid.
Without further adieu (or wasted bandwidth), the top 10 - err 12 - of 2008.
Krallice
- "Krallice" - the debut black metal offering of a bunch of guys who don't regularly play black metal. Perhaps they should, because this is a pretty damned good album.
Nachtmystium
- "Assassins - Black Meddle Part 1" - USBMers go all 70's proggy on us and unleash The Mothership on us all in a black metal album? Mushrooms. They do a creative mind good.
Saviours
- "Into Abaddon" - I caught them opening for High on Fire last January. They rocked. Unfortunately I did not stumble across their 2008 release until early 2009 and too late to have nominated in the Stoner/Sludge category. It was definitely worthy.
Landmine Marathon
- "Rusted Eyes Awake" - these Phoenicians pay homage to Earache classic death metalers like Carcass and Bolt Thrower with this shredding release. This is 30 minutes of ass kicking fun. And their lead singer can beat up your lead singer.
Mar de Grises
- "Draining the Water Heart" - the only of my dirty dozen to come from south of the equator. A fantastic doomy effort by these Chileans. Took the staff award for best doom release and should have taken the "regular" MS doom award as well had the VB fanbois not shown up en masse on the closing days of the polling relegating "Draining" to the silver medal.
Gama Bomb
- "Citizen Brain" - throwback thrashsters from the Emerald Isle had me rummaging through my closet to unearth my bullet belt
and
kneeling before Zod with this happy fun homage to 80's cross over thrash release.
Speaking of happy fun releases,
Leviathan
- "Massive Conspiracy Against All Life" - a positively negative sonic experience combining the misanthropic hatred of Leviathan albums past with cold ambient joykilling atmosphere of Wrest's Lurker of Chalice alter ego.
(sponsor? gotta pay the bills somehow?)
Darkspace
- "3" - my choice for black metal release of the year. Inhuman (unhman?) soaring black metal wrapped in the cold void of deepest, darkest space. In (dark)space, no one can hear you scream.
Darkthrone
- "Dark Thrones and Black Flags" - Darkspace got my nod for best black metal of 2008 as it was more of black metal "thoroughbred", whereas Nocturno and Fenriz' latest is a rip roaring raucous mix of their black metal origins as well as classic metal and crust punk. A great riff-fest to hoist a few pints and sing along with. Many purists might not like their current direction, too bad, so sad. as someone who discovered extreme metal via punk, i fucking love it.
Skepticism
- "Alloy" -keyboard drenched funeral doom misery that reminds you no matter how great a day you are having, we all end up like 2008. Wormfood. Who knew misery could be so beautiful?
Enslaved
- "Vertebrae" - the Norwegian Vikings new work sounds like they were set to cut a split with the lads of Pink Floyd (Circa 1972) before the mother of all protools meltdowns caused the tracks to get jumbled together into one jambalaya? a thoroughly enjoyable journey which sees the Sheep-Downloading, beer guzzling quintet more prog and less black. As Jupiteras* remarked about this effort? "Pink Metal". Whatever. It's good and leaves me completely fired up to see them open for (and blow offstage) Opeth in two weeks. I guess with their evolutionary path I can leave the horned helm and battle axe at home for the show. Wonder if they'll release a flying pig?
Although I suspect a flying inflatable sheep would more fit their idiom.
Finally we come to the top slot in my picks for 2008. I want you, dear reader, to remember back to the craziest party/concert you ever attended. The one where the beer was cheap, everyone was hammered, the music fucking rocked balls, the one where everyone, including that crazy exchange student, The Donger, got laid.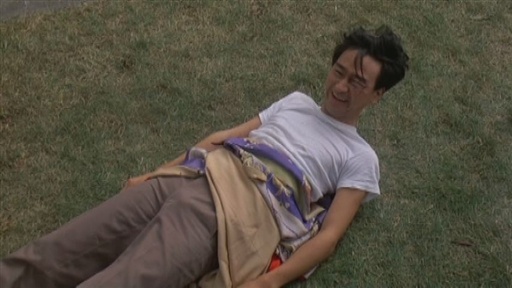 Remember what a great night that was?
Well, that is what the misery of Leviathan and Skepticism feel like compared to the reigning king of 2008?
Esoteric
- "The Maniacal Vale" - one hour and forty minutes of merciless, drug addled psychedeathdoomelic sensory assault. Imagine your soul is pinned down to train tracks by some black hat and cape wearing villain a la Snidely Whiplash.
This album is the locomotive train that comes bearing on you at absolutely glacial speed and coldly, unflinchingly, and without remorse, runs you down and smears the subatomic particles that used to be you all over the tracks.
Some 17 years or so ago I stumbled across "Streetcleaner" by
Godflesh
and it crushed me. It rendered me a quivering mess of flesh on whatever surface I had been laying on after plunking it in the tray and hitting "play". It was unassailable. For nearly two decades nothing has come close. Death metal, black metal, doom metal, dark edged ambient? lots of absolutely crushing abysmal music, but nothing had come close to "Streetcleaner". With "The Maniacal Vale" Esoteric did. The two now both look down upon the rest of musicdom from their equally lofty pedestals, mocking the also-rans, would-be's, and wanna-be's who have tried to match them and failed.
*Jupe's name intentionally misspelled for artistic reasons.
| | |
| --- | --- |
| | Written on 04.05.2009 by |
Comments
Hits total: 6223 | This month: 3