Burzum - New Album Due In March
Fallen
will be the title of the 9th studio album from
Burzum
, the follow-up to the 2010 release
Belus
- which put Burzum straight back at the at the top of the chain as of one of the most innovative and creative metal artists of our time... apparently.
Fallen
will be released on March 7th via Plastic Head (distributor of Byelobog Productions).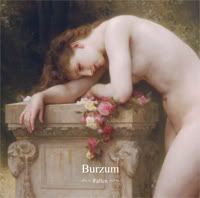 The rest of the press release reads as follows:
Fallen
follows
Belus
in sound and structure, and can also be compared to the music on the groundbreaking
Det Som Engan Var
.
Fallen
is more dynamic and hard hitting then
Belus
and has an even bigger sound, but still carries the same trademark melodic melody lines throughout that makes Burzum sound so iconic and unique.
Burzum mastermind Varg Vikernes (aka Count Grishnackh) says of the new album and his style of music: "Musically
Fallen
is like a cross between
Belus
and something new, inspired more by the debut album and
Det Som Engan Var
than by
Hvis Lyset Tar Oss
or
Filosofem
. The sound is more dynamic - we mastered the album as if it was classical music - and I was more experimental than I was on
Belus
in all respects. Lyric wise it is similar to the debut album, in the way that it is more personal and focuses on existential issues, but the mythological undertone known from
Belus
is still there. I have also included some ambient tracks - a short introduction and a longer conclusion."
Fallen
[
cover art
] tracklist:
01. Fra Verdenstreet
02. Jeg Faller
03. Valen
04. Vanvidd
05. Enhver Til Sitt
06. Budstikken
07. Til Hel Og Tilbake Igjen
Comments page 2 / 2
Hits total: 4776 | This month: 1