POWERVIOLENCE RAAAAAAWWWWWW!!!!
Powerviolence is a fun genre. A lot of people don't think it's just noise or just bad music, but this form of aggressive punk has many different layers, whether it be slow and doomy, or fast and full of rage. I'd like to take the time to go through the genre, and recommend some things to some of you that might be a little wary on it.
POWERVIOLENCE? LOLWUT
What is powerviolence? To answer this question, we must travel back to ancient Greece. The year is... yeah, whatever. Powerviolence is a form of hardcore punk. It's very closely related to grindcore, and is generally lumped into that crowd. While sharing many similarities, powerviolence has several unique features: extremely fast and short songs (generally under 1 minute), aggressive, incoherent vocals, blast beats, and groovy d-beat fills. Originated by bands like
Infest
,
Man Is Bastard
and
Stapled Shut
. The term was coined by Infest guitarist Matt Domino, and was first referenced by Man Is Bastard in the early 90's. Here's a great representation of the sound.
Lo-fi, gritty fun.

DIY OR DIE
First things first: Being so closely related to punk, powerviolence has develop the same do-it-yourself mentality that many a punk band have attained. Many bands release demo cassettes handmade in the vocalist's mom's basement or whatever. They self-fund everything from tours to t-shirts. The self-funding is a major reason why I like to support the underground bands of this already underground genre. Buying a
Children Of Bodom
shirt really doesn't help them out too much (as if they need more money), but spending $10 on a cassette, shirt and a 7" from a band that's just trying to make it from Portland down to San Diego really helps them out, and it'll make you all warm and fuzzy inside.
Here's a perfect example:
Cerce
Bandcamp
Handmade CD-Rs, funding their own tour: DIY perfection.

SPLITS AND COLLABORATIONS
Another popular powerviolence trend is the vast amount of split EPs and albums. While I'm not in a grindcore band (thus I do not know the true meaning of the split album) I'm going to assume a few things about it. Feel free to bitch at me if I'm wrong.
1. The main reason I think splits occur is to cut cost. Making albums physically and even digitally costs money. Lots of money. More than your average punk has. Spreading out that cost between several members from different bands really helps elevate the costs
2. Another reason I have is that splits offer wider promotion. You buy one CD, vinyl, or whatever, and you get two bands. They get their name out, you get a CD with two bands. Win-win.
3. The final reason why I believe splits are heavily produced within the powerviolence scene is that the music is short. It's always been. If you look at Infest or Charles Bronson LPs, some were as short as 10 minutes. Two bands combining full-lengths equals one
actually full
full-length. It's rocket science, I know.
Here's a cool one:
Bandcamp

WOMEN
OH YES THE GIRLIES, SO MANY GIRLIES. Powerviolence is home to many a female member. While mostly being limited to vocals, there is a heavy female presence in powerviolence. In a male-dominated genre, I find this to be a big breath of fresh air. Some of these members include...
Here's Avry from
Cheap Art
.
Bandcamp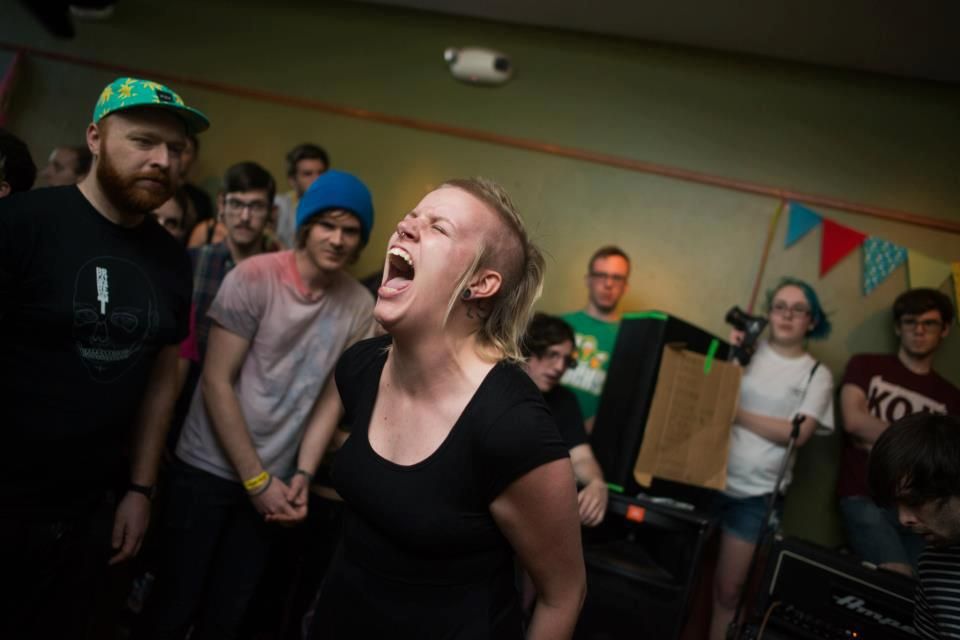 PROMO TIME
Powerviolence, just like many underground and obscure music scenes, relies heavily on the fans to spread the word. That being said, here are a few bands and labels that produce some quality stuff.

Labels:
Hygiene Records -
http://hygienerecords.storenvy.com/
WOOAAARGH -
http://wooaaargh.bandcamp.com/
&
http://wooaaargh.tumblr.com/
To Live A Lie Records -
http://www.tolivealie.com/
These are definitely my top three favourite. Please take the time and support these guys. Great owners from all three. From each label specifically, check out:
Hygiene - Cheap Art
WOOAAARGH - Gets Worse
To Live A Lie - Magrudergrind
Bands:
Cheap Art
Female led aggressive music. Heavy, and unforgiving. 404 FASTERCORE.
Bandcamp
Check it out.
Eastwood
More aggressive, face pummeling violence.
Bandcamp
link for the split with Entendeu (free download).
Gets Worse
No a big fan of the vocal work, but damn this is heavy. Yet another WOOAAARGH release.
Bandcamp
Many, if not all, of the bands I stated earlier also have Bandcamps, Facebooks or AOL accounts. A quick online search will find you all you need!
And there you have it; a half-assed collection of a brief history of the genre, and my stupid ideas towards it. Hopefully I've intrigued you enough to check it out.

404 FASTERCORE
Guest article disclaimer:
This is a guest article, which means it does not necessarily represent the point of view of the MS Staff.
Comments
Hits total: 8961 | This month: 12